US Army Reserve Shooting Teams Alumni Association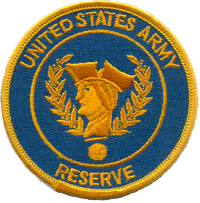 USAR Combat Team
---
Australian Army Skill At Arms Meeting (AASAM),
Commander in Chief Trophy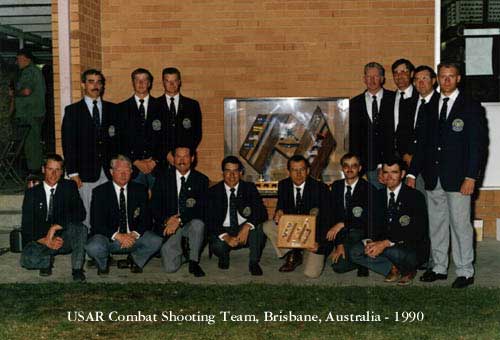 1990 USAR Combat Shooting Team with AASAM Commander in Chief Trophy

Front Row, L to R, SPC Sean Hartswick, MSG William Fetterolf, SFC Peter DelPonte, CPT Jay Williams, CW2 Heigo Orav, MSG Gary Valasek, MAJ Obed Morley. Back Row, L to R, SGT Michael Pautler, SPC Kevin McMahon, SFC Mark Bearnson, MSG Allan Ewing, MAJ Robert Gustin, MAJ Christopher Stark, 2LT Chris Hansen
---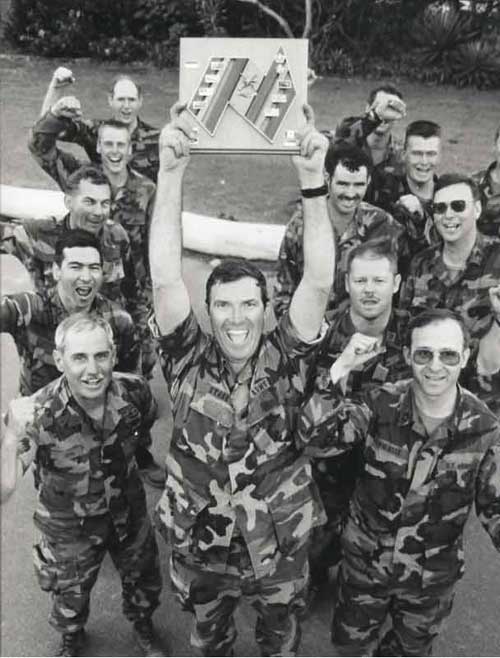 1991 AASAM Winners
Left side top to bottom: MAJ B. O'Brien, SGT S. Hartswick, CW2 H. Orav, CPT J. Williams, MSG J. Silvia
center: LTC C. Stark
right side top to bottom: 1LT R. Streich, SPC K. Mc Mahon, SFC M. Bearnson, MAJ O. Morley, LTC T. Corkill, CW3 B. Wood, MSG G. Valasek
---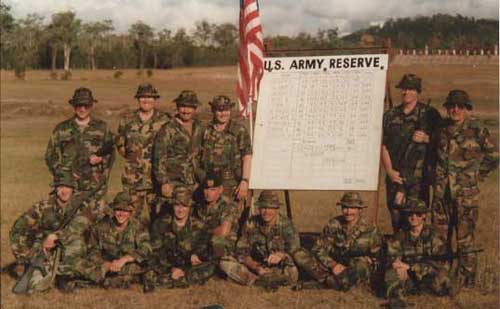 1991 AASAM
Front row L-R: SPC K.B. McMahon, SGT S.K. Hartswick, SFC M.D. Bearnson, MSG J.M. Silvia, 1LT R.O. Streich, MAJ O.A. Morley, MSG G.A. Valasec. Back row L-R: LTC T.M. Corkill, LTC C.J. Stark, MSG P.J. Del Ponte, CW3 B.Wood, MAJ B.E. O' Brian, CW2 H.U. Orav
Behind camera: SSG H.P. Neuzil
---
4 man team at AFSAM in 1992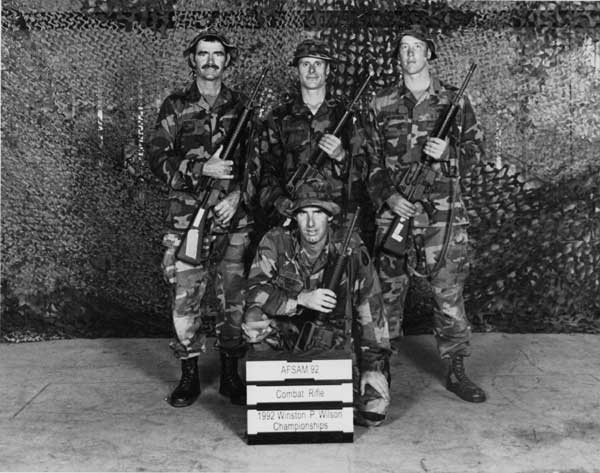 Kneeling: David Chase
Standing: Obed Morley, Sean Hartswick, Kevin McMahon
---
1992 AASAM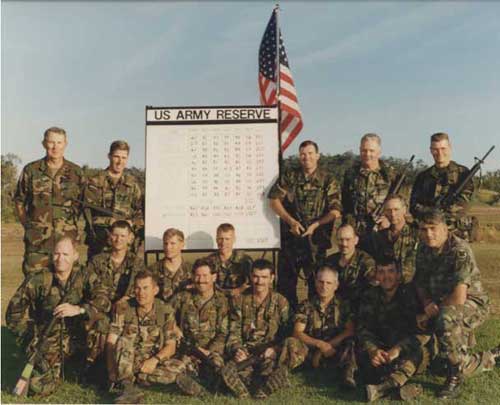 Front Row L-R: MAJ B.E. O'Brien, CW2 H.U. Orav, MSG P.J. Del Ponte, MAJ O.A Morley, MSG J.M. Silvia, SPC T.P. Rider, MG M. Baratz
Second Row L-R: CPT M.F. Raab, 1LT C.S.Hansen, SSG S.K. Hartswick SGM R. Skolsky, CW3 C.D. Topp
Third Row L-R: MSG R. Crouse, SPC D.M. Chase, LTC C.J. Stark, MSG A.M. Ewing, SFC M.D. Bearnson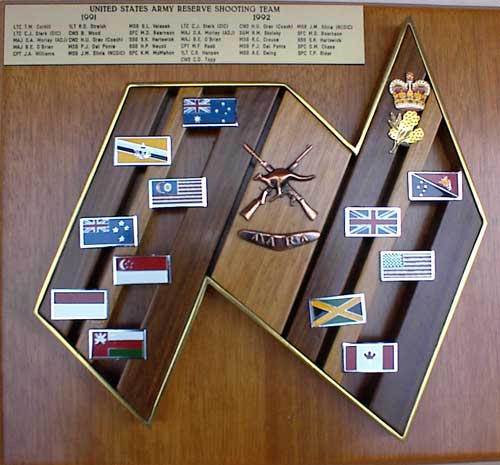 ---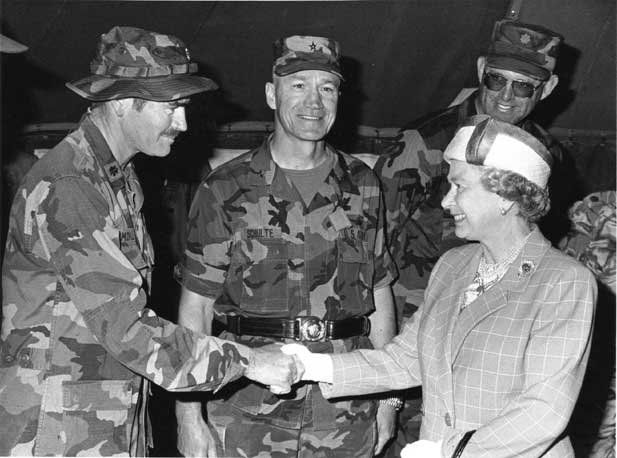 MAJ Obed Morley shaking hands with Queen Elizabeth the II in England at the Bisley matches in 1993.
---
USAR Combat Team at the Canadian Forces Small Arms Competition (CFSAC) in 1995.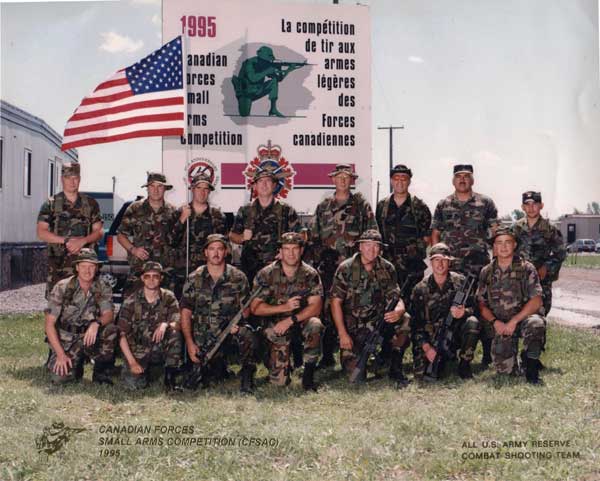 Front Row: Mike Maloney, Gary Valasek, Wayne Dick, Paul Hansen, ?, Sean Hartswick, Melvin Makin
Back Row: Mark Bearnson, Steve Spencer, David Chase, Bruce O'Brien, Charlie Topp, Pieter Voss, Luis Valdez, Mike Castellanos
---
USAR Combat Team - Armed Forces Skill at Arms Match (AFSAM) at Camp Robinson in 1996.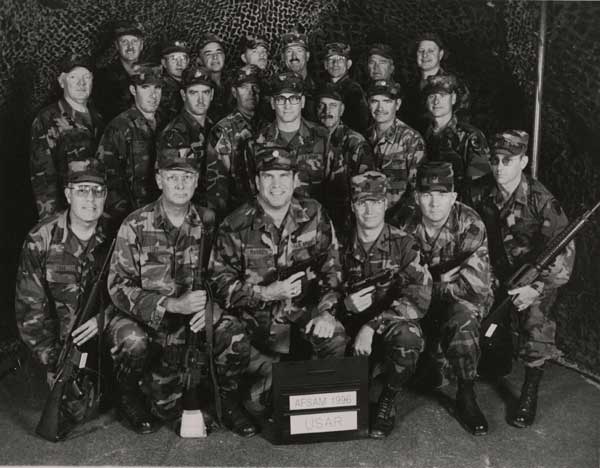 Front Row: Pieter Voss, Charlie Topp, Paul Hansen, ?, ?, ?
Middle Row: Al Ewing, David Chase, Wayne Dick,?, ?, ?, Obed Morley, Sean Hartswick.
Back Row: Mike Maloney, ?, Melvin Makin, ?, Pete DelPonte, Joe Carlos, Steve Reiter, Stephen Spencer
---
USAR Combat Team at the Australian Army Skill at Arms Meet (AASAM) in 1997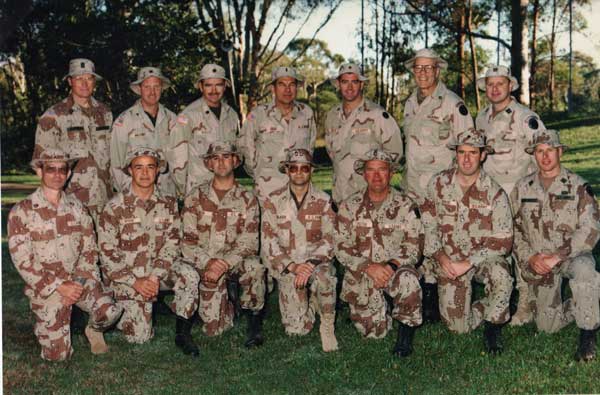 Front Row: SFC Joe Calos, SFC Melvin P. Makin, PFC Chris Irish, MSG Gary L. Valasek, MSG Steve Reiter, SPC David Chase, SSG Sean Hartswick Back Row: MSG Mark Bearnson; SGT Michael Maloney; LTC Obed Morley, CW3 Heigo U. Orav, MAJ H. Wayne Dick, SPC Pieter C. Voss, MAJ Stephen T. Spencer
---
USAR Combat Team in 2005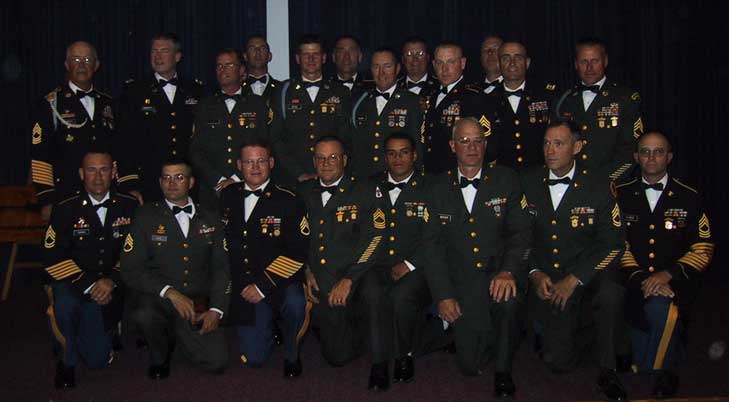 Back row: Curtis DeMuth, Rick Sinnot, .. , Russell Moore, Mark Ness, Michael Gargac, Jim Dechert, Mark Bearnson, Andy Knote, Jerry Mullen, Pat Sperlongano, Sean Hartswick. Front Row: Raul Torres, John Buol, Brent Lantagne, George Harris, Blount, .. , Hubert Townsend, Gary Valasek
---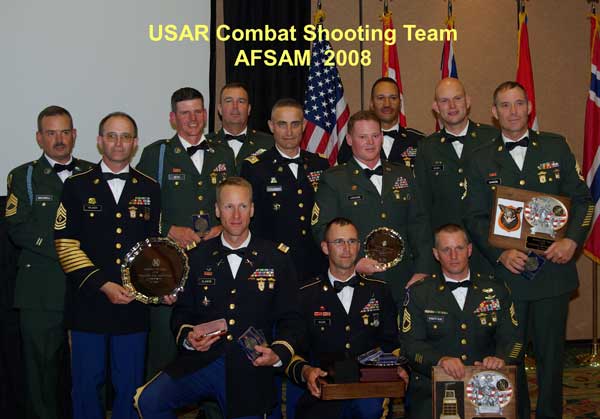 USAR Combat Team at 2008 AFSAM (Armed Forces Skill-At-Arms Meeting).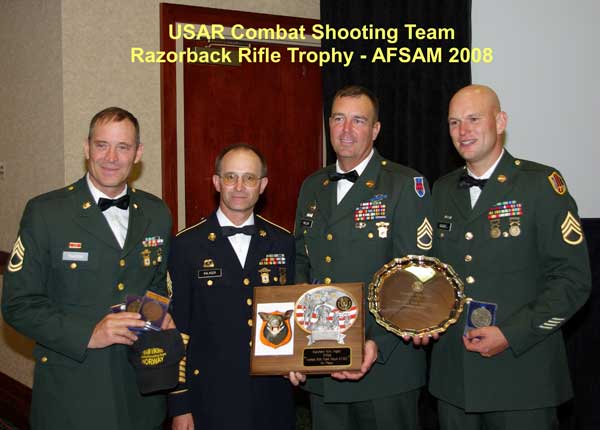 Razorback Trophy from 2008 AFSAM (Armed Forces Skill-At-Arms Meeting).
---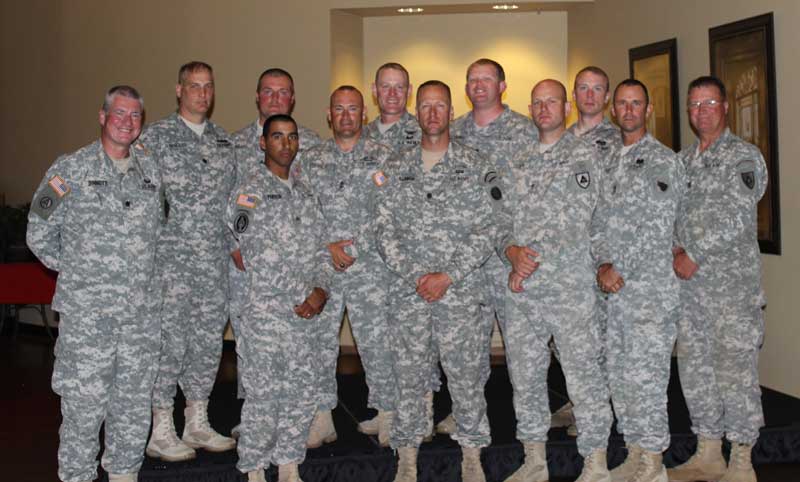 2013 USAR Combat Team:
Back Row: Dave Schultz, Rich Willis, Raul Torres, Andy Knote, Sean McDaniel, Kirk Freeman
Front Row: Rick Sinnot, Luis Pantoja, Scott Klawon, Jason Godel, Russell Moore, Mark Bearnson
---
---
Current and Former Members of the USAR Combat Team
Mark D. Bearnson
Michael J. Brown
John M. Buol
Rod Burdette
Michael F. Carlin
Charles J. Carlos
Mike Castellanos
David M. Chase
Warren Clark
Thomas J. Conners
Thomas M. Corkill
Raymond C. Crouse
James O. Dechert
Peter DelPonte
Curtis L. DeMuth
Herman Wayne Dick
Larry A. Dison
Lance Espinosa
Allen M. Ewing
William Fetterolf
Fritz A. Ficke
Kirk Freeman
Michael R. Gargac
Paul M. Garner
Jason Godel
Daniel C. Goodrich
Frank M. Goza
Robert Gustin
Chris S. Hansen
George Harris
Sean K. Hartswick
Charlie C. Hearn
Richard R. Kalina II
Ray Kelley
Andy Knote
Brent Lantagne
Leonard Lorentzen
Denise L. Loring
Melvin Makin
Michael Maloney
Stephen P. McDonald
Ralph McHugh
David McKean
Kevin M. McMahon
Lowell T. Merrill
Russell W. Moore
Obed A. Morley
Jerry Mullen
H. P. Neuzil
Bruce E. O'Brien
Heigo U. Orav
J. Tim Partin
Michael Pautler
Ronnie Porter
Marcus F. Raab
James E. Radford
Steve Reiter
Thomas P. Rider
Harry Russell
David Schultz
Joseph M. Silvia
Richard M. Skolsky
Steven Slee
Stephen Spencer
Pasquale Sperlongano
Christopher J. Stark
R. O. Streich
Charles D. Topp
Hubert M. Townsend
Raul Torres
Eric A. Underhill
Gary L. Valasek
Luis M. Valdez
Pieter C. Voss
Jeffery L.Walke
Jay A. Williams
Albert B. Wood Know of others that should be listed? Send to
webmaster
with full name and the years they were on the team.
---
Canadian Forces Small Arms Championships (CFSAC)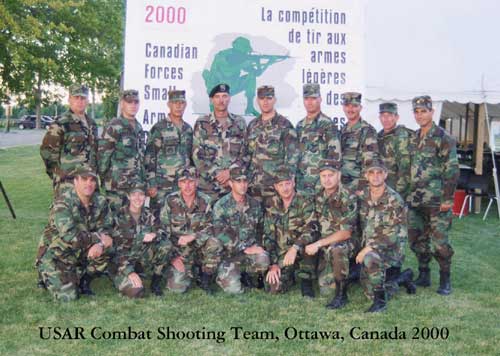 "Army Reserve Magazine" article
---
---